Moderator: Contaminated
---
Posts: 1496
Joined: Wed Feb 09, 2011 7:24 pm
Contact:
Wow, some (well lots - if I'm honest) of the pictures for the alps trip are amazing.

---
Posts: 1496
Joined: Wed Feb 09, 2011 7:24 pm
Contact:
This wall is part of the old gas works and is used legally by the local graffitti artists.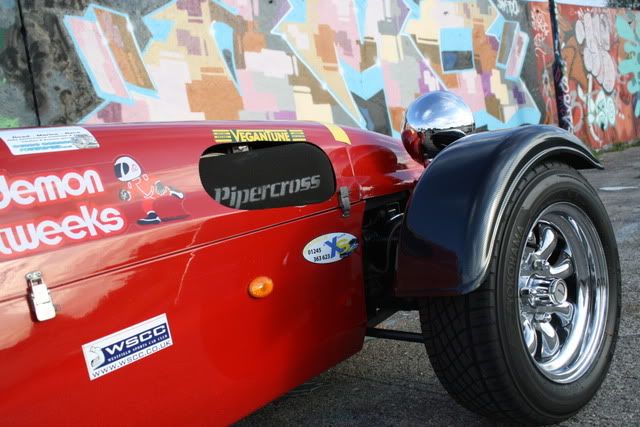 Was thinking about taking a wheel off for this one, but didn't have any bricks handy.
---
Posts: 3060
Joined: Sat Mar 06, 2010 1:42 pm
Location: Horsham
Contact:
Stretching the point with this one, the Nissan Pathfinder we hired in Canada shared half its registration with my R6 'TGR' and amongst all the gas guzzling 4x4s, there was Caterham, the only 7 we saw in two weeks
Attachments

TGR 2.jpg (481.92 KiB) Viewed 4318 times

TGR.jpg (495.56 KiB) Viewed 4318 times
Tiger Cat E1 - 2008-2009
Tiger R6 - 2009-2014
Austin Healey Sprite - 2014-2018
Fisher Fury Le Mans - 2018-2019
---
Site Admin
Posts: 10009
Joined: Thu Dec 03, 2009 10:34 am
Contact:
mmmm indeed a bit of stretching Tony

---
Site Admin
Posts: 6297
Joined: Sat Feb 20, 2010 1:57 pm
Location: Maresfield, East Sussex
Contact:
Nice purple ruck sack T

---
Posts: 401
Joined: Sat Apr 23, 2011 9:29 pm
Location: Colchester
Contact:
One from today's Lavenham Carnival and Rare Breads Motorshow. I've not been to the show before but for what is basically a small village fair I wholy impressed by the varity of unique and rare cars on display

I almost felt out of place with my Westie

everything from a 1902 steam car, a 1920's racing Bugatti up to modern day exotica.
Since we don't have a catagory for cars shows, this seems to be a fitting place.
A few more pics from the day here for those that are interested.
http://s457.photobucket.com/albums/qq29 ... ?start=all
Mark
---
Posts: 403
Joined: Fri Feb 26, 2010 8:49 pm
Location: Dartford Kent
Contact:
Not sure were this one goes but it shows that i was out and about.
Entrance to the HOP FARM Paddock Wood.
---
Posts: 403
Joined: Fri Feb 26, 2010 8:49 pm
Location: Dartford Kent
Contact:
Dungeness Lighthouse
---
---
Return to "SKCC Photo Comptetition 2011"
Users browsing this forum: No registered users and 0 guests